DRAMATIC LITERATURE SEMINAR
Instructor: Dr. Gwen Adams

Seminar will meet weekly to read aloud and discuss plays from the following categories:
Classic Greek drama (for example, works by Aeschylus, Sophocles, Euripides)
Medieval and Renaissance drama (for example, Everyman, Hickscorner)
Baroque/early modern (for example, Marlowe, Calderon, Corneille, Racine, Commedia dell'Arte)
Early modern/19th century (for example, Goldsmith, Wilde, Chekhov, Barrie, Gilbert & Sullivan)
20th century (for example, Shaw, Eliot, Christie, Bolt, Miller, Wilder)
Each seminar will devote time to reading the play and discussing its key themes. Roles will be assigned to all participating students, rotating between major and minor parts.
Dr. Gwen Adams has been teaching, leading seminars, and directing plays for more than fifteen years. Learn more here.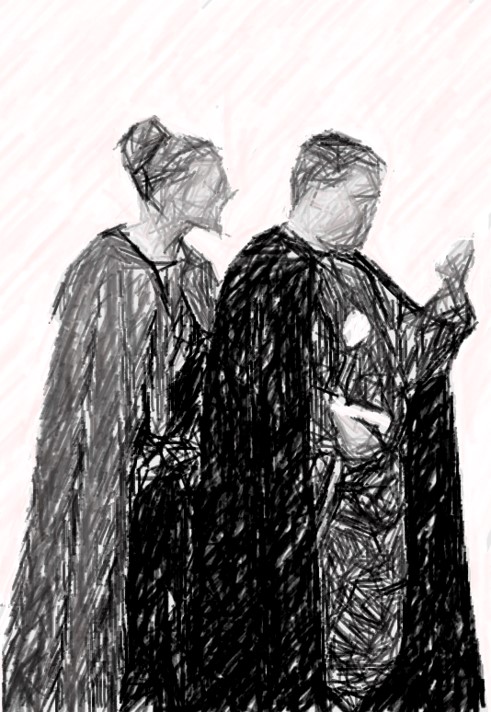 Who: The seminar welcomes students entering seventh grade through senior year of high-school and their parents. Seminar size is limited to 11–17 students. If numbers warrant, a second section may be opened, dividing applicants into two grade levels (most likely, grades 7–9 and parents; grades 10–12 and parents).
When: Seminars last 90 minutes with a 10-minute break. We are gathering information to see the time that works best for participants. Give your input by completing this form.
Where: Greyhouse Coffee (West Lafayette, Indiana) or similar location.
Cost: TBD. Substantial family discounts will be available for families registering multiple members. Students can register for an individual play (three seminars), for the semester (12 seminars), or for both fall and spring semesters (25 seminars).
No homework or grades will be assigned. Reading texts before the seminar is encouraged, but not necessary since the plays will be read aloud in their entirety. With prior notice, arrangements can be made for instructor to provide a letter of recommendation summarizing student seminar work, suitable for college application, etc.
Why participate in a seminar? Seminars train skills and offer a unique educational experience, for example:
I. Practice in reading aloud and speaking, enunciation, vocabulary, and word choice, how to ask and answer questions, describe a scene, explain a process, tell a story, argue a point, and think on one's feet.
II. Practice in listening actively and accurately in conversation, discussion, and argument; how to recognize and understand different kinds of utterance, including non-verbal cues and body language; how to interpret the purpose of an utterance and adapt one's thoughts to frame a relevant reply.
III. Practice in learning from one another and in shared exploration of perennial human questions.
More so than individual reading, a communal reading of a dramatic work offers an experience closer to the playwright's original intention and more befitting the medium of dramatic works. Hence, communal readings are more fun (!), as well as more educational. Finally, this kind of seminar offers a shared joyful experience of the true, the good, and the beautiful, and this is a key characteristic of heaven. It is good to get a glimpse of that here and now.