2020 THEATER SEASON POSTPONED
A Message about Postponing Our 2020 Season . . .
With sadness, we have decided to postpone the 2020 Season and production of Henry Van Dyke's The Other Wiseman. We have been working on this production since Summer 2019. When COVID19 hit, we persevered and developed multiple backup plans. As one of our heroes, Open Window Theatre, put it:
"We made the decision to press forward in faith because we believe the work we do matters, we believe the art we produce can speak powerfully to our troubled times while offering essential hope and inspiration, and we believe we can operate safely while protecting the most vulnerable during this pandemic."
In May 2020, it seemed like things were getting "Back on Track" and that COVID19 concerns had been addressed so that we could weather any health storm while continuing to worship, work, educate, and the like.
As rehearsal time approached, we calculated how late we could begin practices and still be able to perform. We researched, consulted, and ran the numbers to determine the financial viability of a production subject to various protocols and limitations. Like many other theaters, we came to see the unworkability and financially unsustainable character of live theater under current conditions.
A consideration even stronger than financial risk was the fundamental fact that theater isn't the same without the live audience.
"The only thing that all forms of theatre have in common is the need for an audience. This is more than a truism: in the theatre the audience completes the steps of creation."
Peter Brook, The Empty Space
Even if we managed to complete our rehearsals, there was no guarantee we would be able to perform before a live audience in December. All the backup plans involved livestreaming, audio dramatizations, or similar solutions, none of which had an essential ingredient: the live audience. As Southeastern Theater Conference notes:
"Theatre is about human connection . . . that once in a lifetime moment of exchange between actor and audience. Simply, that's what makes the COVID-19 pandemic so very difficult, particularly for our industry, because it has deprived that exchange which inspires our work and stirs our beings."
We are postponing our season until the time we can come back, able to produce a fully live theatrical production to a lively full house. Meanwhile, we'll be devoting ourselves to the creation of new plays, new forms of theater, and the new underground theater in the footsteps of John Paul II and the Rhapsodic Theatre, all of which you can learn more about
here.
Our hearts are with the sick, the poor, and the isolated. Our hearts are with all actors, lovers of theater, and those who find healing in the power of theater to provide a forum for physical interaction, dance, song, music, charity, mutual support, slaps on the back, handshakes, hugs, tears, laughter, the full expression of emotion through the voice and uncovered facial expression, and the full expression of truth, beauty, and goodness, of everything human, through the magic of theater.
You can subscribe below to get updates about forthcoming productions. May they come soon!
Adult Company & Touring Company
Details on the next season will be posted as soon as possible.
Your personal data will only be used to support your experience throughout this website unless you request otherwise. By subscribing, you confirm that you agree with our
Terms & Conditions and Privacy Policy
. You may unsubscribe at any time.
Integrating Faith and Theater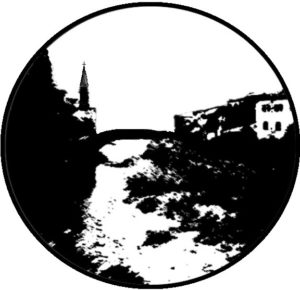 We're committed to the integration of faith and theater as an important part of cultivating the soil of Christian Culture. We are inspired by these words of Benedict XVI:
Authentic beauty, however, unlocks the yearning of the human heart, the profound desire to know, to love, to go towards the Other, to reach for the Beyond. If we acknowledge that beauty touches us intimately, that it wounds us, that it opens our eyes, then we rediscover the joy of seeing, of being able to grasp the profound meaning of our existence, the Mystery of which we are part; from this Mystery we can draw fullness, happiness, the passion to engage with it every day.
We take the art and craft of theater as an opportunity to practice charity towards our fellow actors and crew and towards our audience, to engage in mutual support, service, and compassion. We pursue truth, beauty, and goodness through the production of classic dramatic plays and the development and production of new works.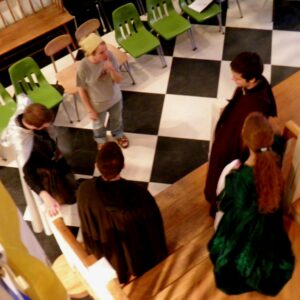 Does this vision inspire you? Help us bring this mission to life. Find out how you can volunteer here or help us with your prayers, your ideas, and your financial support.
Bringing youth and adult theater to life involves many behind-the-scenes costs: rental fees, insurance, website maintenance and design, merchant fees, props, sets, advertising, licensing costs, and more. Your prayers, ideas, and gifts will make it possible for us to cover our costs while facilitating the participation of cast and crew who wouldn't otherwise have a way to engage in or view live theater productions.
Help us with your prayers, input, and your financial support. Bardstreet LLC is not a 501(c)3, so financial gifts are not deductible – but if you want to help, we're committed to helping you help!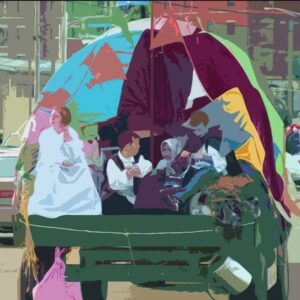 1. Pray and offer direct encouragement, prayer, and financial support to people interested in participating in one of our theater sessions/camps.
2. Sponsor a show expense or make a direct financial gift to Bardstreet LLC for production costs by contacting Gwen Adams at
director@bardstreet.com
.
3. Volunteer for a Lafayette production.
4. Buy an ad or sponsorship or send a shout-out and designate a cast/crew member to receive a 40% credit.
5. Volunteer for a Louisville production.
6. Send us your ideas and input!
7. Share the vision, share the site.